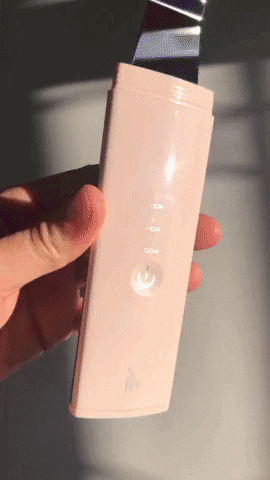 WHAT ULTRASONIC EXFOLIATOR WILL DO FOR YOUR SKIN 

Imagine your skin looking bright, healthy, and polished after one use without using chemical or abrasive exfoliators.  This facial tool is excellent if you have sensitive skin to the harsher methods of exfoliation or just want to add an extra layer to help with your skin exfoliation goals. 
SETTINGS
3 Exfoliation settings:
1. Ultrasonic speed
2. Ion +
3. Ion -
Blue LED light
Spatula for extraction
Side Smart Sensors activate tool +Touch Button Technology
BENEFITS
Un wedge debris from clogged pores
Buffs away dead skin cells
Cleans oil & buildup
Decrease and remove blackheads
Exfoliate
Extract
Deep clean
Stimulate cellular turnover rate
Produce collagen
Allow deep product penetration
Shrink pores
Reduce fine lines and wrinkles
Promote natural glow 
Clinical Trials Demonstrating Efficacy 
WHAT EACH SETTING DOES

Setting 1  Blue LED light therapy + Deep Exfoliation it will:
Deep Clean - Ultrasonic movement  (think power washer for the skin, you literally see the water vaporizing as you glide over it) 

Exfoliate - 24 thousand oscillations per second (think ultra-fine scrub) buff away dead skin leaving your skin ultra-silky
Extract - Spatula pointing down press to squeeze out congested pores
Light therapy - Blue LED light to help treat acne + reduce scarring 
Blackhead removal - extract and decrease the reoccurrence of blackheads
Setting 2  Moisturize part Ion + it will:
Moisturize/product absorb - the product will be ionized (broken down to smaller ionic positive particles) to be easily absorbed into the skin

Unclogging - more unclogging action at this speed will loosen pores making them more receptive to product
Setting 3  Moisturize part Ion - it will:
Moisturize/product absorb part 2 - the product will be ionized (broken down to smaller ionic negative particles) to be easily absorbed into the skin. Different frequency breaks particles to smaller negative ones. To absorb the remainder of the product.
USB charge, instructions + cord included in the box 
Safety
For professional use. Please read all instructions in the box before use. Consult with a dermatologist prior to using the Ultrasonic Exfoliating Spatula device if you have medical concerns or have recently undergone a cosmetic procedure. Consult with a medical professional if you have had a chemical/acid peel or extreme sunburn or have any chronic skin disorders. Always have a product on your skin such as a serum, moisturizer, or oil, and do not leave the product in one place on the skin while it is on. Some users have reported a tingling sensation while using the device, using this product should be a comfortable experience. If you experience any form of discomfort discontinue use immediately. Do not use this Ultrasonic Exfoliating device if your skin condition worsens or you experience discomfort, irritation, redness, burns, etc. The above statements have not been evaluated by the FDA all Solaris Laboratories products are not intended to diagnose, treat, cure, or prevent any disease. If you have any metal allergies please consult with a medical professional before using any of Solaris Laboratories products. Any negative consequence resulting from the misuse of Solaris Laboratories products or application of Solaris Laboratories products is neither responsibility of Solaris Laboratories NY or its affiliates. All Solaris Laboratories NY products are to be kept away from children. Children under the age of 18 should not use or play with Solaris Laboratories Devices/tools/massagers. Products have not been tested on children. Before charging make sure the device and USB port are free of water. Unplug the device from the charger while in use.